You've never seen a toad like this before.
This otherworldly beauty, called the Sambas Stream Toad, or Bornean Rainbow Toad, was rediscovered in Borneo, Malaysia after 87 years without reported human detection. Scientists from the Universiti Malaysia Sarawak recently found three such toads.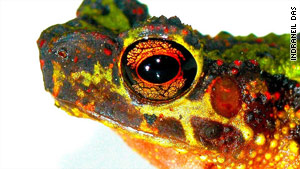 These are some of the first photos ever taken of the rainbow toad. Before now, no one has reported spotting it since 1924!
Dr. Indraneil Das and his team found an adult female, an adult male, and a juvenile rainbow toad. And they're tiny: the youngest one is a mere 30 mm (1.18 inches).
Learn more about Conservation International's Global Search for Lost Amphibians, which inspired the search for this precious toad.