A NASA satellite is expected to re-enter Earth's atmosphere on or around  Friday, September 23, according to NASA officials on Monday.
Re-entry of NASA's Upper Atmosphere Research Satellite, or UARS, was originally expected in late September or early October 2011, almost six years after its mission was complete.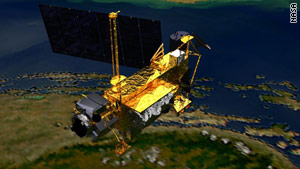 "As of Sept. 18, 2011, the orbit of UARS was 133 mi by 149 mi (215 km by 240 km). Re-entry is expected Sept. 23, plus or minus a day," NASA wrote Monday  in an update.
The satellite will break into pieces during re-entry, and not all of it will burn up in the atmosphere. The risk to public safety or property is extremely small, NASA says.