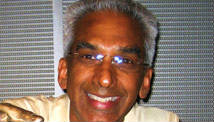 Editor's note: Madhu Thangavelu is space projects director of the Cal-Earth Institute and a fellow at NASA's Institute of Advanced Concepts. He is an advisory board member of the American Institute of Aeronautics and Astronautics with a focus on the design of complex space projects, including space stations and exploratory missions. He also teaches at the University of Southern California.
By Madhu Thangavelu, Special to CNN
Four decades after the first man walked on the moon, we continue to live in a time of great technological and social opportunity. And yet, without vision, lacking direction and in an apparent state of ennui, human space programs are withering around the world.
The new economic powerhouses of China and India show great promise, but I suspect it will take those great nations years of infrastructure building before they can pull off any major feats in this arena, while established rivals-turned-partners like Russia and the U.S. seem to have difficulties envisioning and executing great and exciting new missions.
Perhaps the new generation of multitalented professionals seem to have other priorities elsewhere.
A new direction in collaboration among government and private space agencies, especially in nations with an established space industry infrastructure, might yield technologies and commercially viable projects that could benefit the world in ways we cannot yet imagine.
Human space exploration is in a funk. Membership in the astronaut corps of the United States and Russia has dwindled to an all-time low, their ground and support infrastructure have seen better days, and the global economic downturn is not helping.
If things go as planned, commercial space firms such as SpaceX and Boeing will fill some of the gaps left by the abandoned shuttle program here in the United States.
Space agencies of the world historically have focused on human space activity primarily to promote national prestige, and more recently as an important venue for international collaboration in the sciences and engineering.
It seems natural that human spaceflight activities have been narrowly confined to scientific discovery mainly relating to human survivability and advances in life support and human factors through the building of space stations.
A few astronaut-tended missions have also been dedicated to deploying and servicing satellites, observatories and for conducting experiments in basic physical and life sciences as well.
It is also clear that human space programs, shaped by policies of the Cold War and then by partnerships between economically developed nations, now need to be reassessed, reconfigured and transitioned to a new era employing the flat-world model, one in which the entire globe of nations might participate actively.
For example, human space technologies perhaps offer the best alternatives to protect against climate change by providing reliable and advanced methods to build sustainable shelters for people and livestock and to sustain agriculture in areas threatened by extreme weather patterns.
The soft technologies that we don't hear much about - like those employed in the background by psychologists and human factors experts to keep crews happy and productive in deep, alien isolation environments - play a critical role in human space activity. That's why NASA experts were called to help when those Chilean miners were trapped deep underground a few months after a tragic earthquake in 2010.
These same technologies are finding their way into Federal Emergency Management Agency projects that provide temporary shelters for populations after natural disasters or during emergencies.
However, it has not been easy for the space community to shed Cold War policies that have long been a drag on the industry. Some of these policies suppress creativity and innovation that usually thrive in small and agile organizations.
Even in the rapidly advancing and lucrative satellite communications industry, free trade and U.S. exports of components and systems are hampered by rules and regulations meant to prevent the transfer of what are deemed "sensitive technologies."
A vast array of commercial projects lie waiting in the wings, and now is the time to act on large, complex building projects in space that require on-site human supervision.
By bringing together assets and capital from around the globe, we might see dramatic achievements if we can somehow manage to shed this "us versus them" protectionist mentality of the past century.
At this moment, the orbiting International Space Station is the only platform for human space activity.
The ISS was born from a select partnership of a few nations. Currently, the scope of projects on this platform is narrow.
Deemed a national laboratory, most of the projects currently flying - as well as those proposed - are of a basic scientific and exploratory nature, and a few are meant to extend technology test beds.
Human space activity is a much, much larger endeavor than just scientific human space exploration and technology innovation.
We must use what we have learned so far for the advancement of society and the benefit of humanity in short order.
What would happen if nations collaborated to focus on money-making projects?
The list of possibilities is endless: space-based solar power generators, orbiting fuel depots, recovery of valuable satellites and managing orbiting space junk.
Valuable international ties could be forged if nations joined forces to develop commercial transportation in space. Can you imagine sending cargo from Los Angeles to Shanghai in 45 minutes? How would you like to have breakfast in London followed by lunch in Tokyo, and still get back in time for dinner and family time back in Palo Alto, California?
Space tourism to destinations in Earth orbit or between the Earth and the moon could also be a vital revenue stream. The ISS could be the springboard for many of these activities that have little in common with scientific human space exploration.
Even new synthesis-oriented models of interdisciplinary higher education stand to gain.
Astronautics is one of the first academic disciplines to synergistically combine diverse basic sciences like physics and chemistry and math with astronomy and subjects in applied sciences and engineering like strength of materials, structural design and electronics.
The practitioner had to orchestrate a variety of critical systems to shape the design of missions. Hence the cliché, "It takes a rocket scientist."
Human space activity takes it one step further by introducing humans in the loop; perhaps the most temperamental and weak yet versatile link in this hard, high technology endeavor.
And so the professional now needs to know all about human physiology, psychology and human factors, not to mention architecture, policy and law, to keep crews safe and productive in a collaborative, team-oriented environment.
This is true for the flight crew as much as for the ground crew. The globe of nations is needed to coordinate and support these missions.
Yes, NASA's space shuttle is out of business. Yes, the U.S. manned space program relies now on Russia's Soyuz spacecraft and, soon, private industry.
Just as the Cold War gave birth to the space race, the world's space-faring nations now find themselves with a golden opportunity to focus on the human race.
Let's hope they take advantage of it.
The opinions expressed in this commentary are solely those of Madhu Thangavelu.