While sorting  through primate fossils at the American Museum of Natural History, Stephanie Maiolino and Douglas Boyer found an extraordinary specimen. Encased in a block of mud and rock was the fossilized foot of an extinct creature called a notharctus.
They sent the foot, still encased in mud, to their colleague Joe Groenke at Stony Brook University in Stony Brook, New York, and he did a CT scan. The foot bones were in good shape, and one of the toes looked unusual.
"It had a flattened tip, as you see in nailed-anthropoids, but the base of the claw showed that it would [be] projected up like a grooming claw and that it had weak muscle attachments, meaning the toe wasn't used for grabbing objects and locomotion like the other toes," Boyer explained.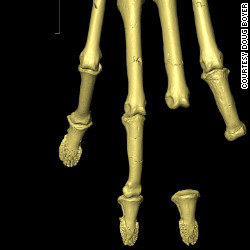 In other words, the toe bone looked a little bit like something that would be paired with a toenail, and a little bit like a digit that would be paired with something called a grooming claw. The primate to which it belongs, Notharctus tenebrosus, lived about 47 million years ago.
"A grooming claw is a specialized nail on the second toe, the one next to the big toe, of some primates,"  Maiolino explained. "Grooming claws are used to scratch through and clean the fur, especially around the head and the neck."
Anthropologists always look for a grooming claw when they are examining fossilized primate feet. In some cases, it helps them figure out what type of primate they are dealing with. Lemurs, lorises, galagos and tarsiers have grooming claws. Most anthropoids don't. This case is quite an exception.
"It may be that we have found a fossil that captures a stage in the evolutionary transition of a nail to a grooming claw," Maiolino says.
The scientists report their findings in the journal PLoS One.