A huge fish that is impervious to piranha attacks could become the inspiration for a new class of ultratough composite materials.
Its scales are so tough that piranha teeth crack when they chomp down onto them. Each scale is coated with a rock-hard mineral material, but they have soft cores made from strings of stretchy protein. The fish is called the arapaima, and it's native to Brazil.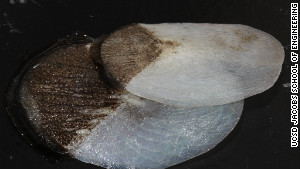 "You often find this in nature, where you have something hard on the outside, but it rides on something softer that gives it toughness,"  Marc Meyers, a professor at the University of California, San Diego, said in a statement.