Editor's note: Elizabeth Landau (@lizlandau) is a writer/producer for CNN.com.
Meat from stem cells? Singing without your vocal chords? I'm still trying to mentally process all of the cool research that I learned about at the American Association for the Advancement of Science annual meeting.
Last weekend, @AAASMeetings drew about 8,000 scientists, journalists, educators, policymakers and communicators came from all over the world to idyllic Vancouver, British Columbia.
For someone who misses the knowledge-thirst-quenching aspects of college, it's pretty blissful. You choose between dozens of subjects to learn about during the day, and then you get to hang out with fascinating people in the evenings. And you're tweeting the highlights to thousands of people, some of whom will want to meet up with you later. Of course, you'd better get those tweets right, or you'll get a #FAIL.
Here's a very condensed version (sorry for not mentioning everyone & everything):
WEDNESDAY 2/15– Met @erikstokstad and @wilsondasilva at University of British Columbia while learning about sustainability efforts @SustainUBC.
Tour of "world's greenest building." Sewage plant has no smell!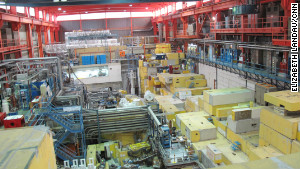 Tour of TRIUMF particle accelerator laboratory. When big magnets are turned on, paper clips stand up.
Mmmmm Japanese food. Take that, jet lag.
THURSDAY 2/16– Sea plane! Went to visit researchers at @UVic. Took ferry back.
@VancouverAqua event for reporters, sharks and dolphins.
FRIDAY 2/17– America in 2035, learned about challenges of aging society.
Why does education stop at 22? Maybe learning and work should both last throughout life.
News about bird flu broke: @WHO committee said two studies on mutated H5N1 should be published in full, just not yet.
Vancouver Science World for @KavliFoundation awards. Lots of great work gets recognized.
Had bad allergic reaction 🙁 Gold star ★ to @rowhoop for moral support and Gatorade. Thanks! 🙂
SATURDAY 2/18– When is late talking a problem for kids? 4/5 of children will recover from late talking; we just don't know which ones.
UBC researchers working on musical instrument that lets you sing with your hands.
@HansRosling: "We have to plan for a future with climate change with 9 to 10 billion people." Shows this with toilet paper rolls. Check out the full presentation.
@MarcAbrahams showcased IgNobel Prize winners and @IvanOransky discussed Retraction Watch at @ImprobResearch event.
Great conversations continue; @nardwuar performs.
SUNDAY 2/19– The consensus is that the balance of genetic and environmental contributions is about 50-50 in autism, says Scott Selleck of Pennsylvania State University.
One cat can produce up to 100 million egg-like structures; each one can lead to toxoplasmosis infection. Scientists talk about marine life and cat poo.
Researchers are working on creating a stem cell burger!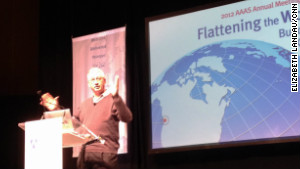 Dinner excursion with @FoxTongue, @EricMJohnson, @shaunabkanel, and physicist Carolyn. Impromptu swing dancing.
MONDAY 2/20– Primatologist Frans de Waal explored the origins of morality in chimpanzees, monkeys. Here's some more from him.
Also, elephants seem to recognize themselves in the mirror, as @edyong209 has reported.
Would love to have seen @maggiekb1 speak about upcoming book, but flight home interfered.
Back to Atlanta to ponder all these things and so much more!