The world snapped to attention two months ago when India announced the successful test of its long-range missile, Agni V.
The BBC declared India had joined the "elite nuclear club." It was a major historic moment that was telling of India's technological prowess. But for those aware of advancements made by Indian science, Agni V was not totally out of the blue. India has been making innovations in the fields of space research, nuclear power and neglected diseases.
Indian science has consistently had major political backing. This was apparent earlier this month when Prime Minister Manmohan Singh became president of a professional science body. He announced plans to formulate a new science and technology policy at his inauguration ceremony at the 100th session of the Indian Science Congress Association.
"The journey of our development is marked by glittering scientific achievements whether in the field of atomic energy, space, agriculture or information technology," he said at the ceremony. "The burden on science in the future will only increase. Our problems are overwhelming and need scientific solutions."
This fervent belief in and respect for science and the push to reap its societal benefits has always been part and parcel of the Indian psyche. It is one of the topics explored in "Geek Nation: How Indian Science is Taking Over the World," (out now in the United States) by British science journalist Angela Saini.
To understand the Indian people's scientific devotion and ingenuity, Saini traveled across the country in 2009 to meet with inventors, engineers and young scientists. She focused not just on India's scientific discoveries and research but also on how science is interacting socially.
"It really opened my mind about how science can be done," Saini said. "I don't mean at the lab level … kind of the social uses, how it's applied to improve society, the way politicians back it up, the way religion tries to use it, the way traditionalists try to use it (and) how it seems to be the property of everybody. Everyone wants a piece of it, wants to be a part of it."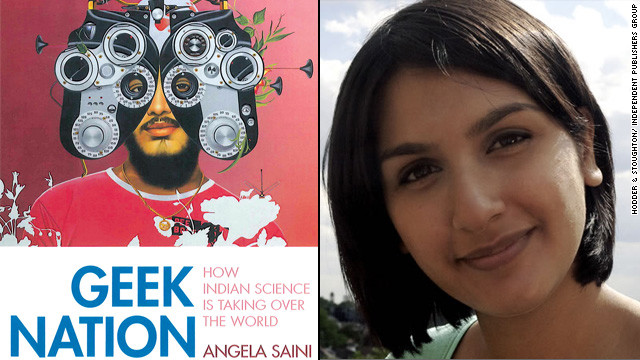 The ancient respect for knowledge, and the perception that science leads to success, is evident everywhere in India, she said, from the coveted Indian Institutes of Technology to matrimonial advertisements, where having an engineering degree would make you a more appealing potential bride or groom. So it's hard not to imagine the sheer number of scientists, engineers, physicists, etc. graduating every year. This huge pool is important, Saini said, because labs in India are short on resources and funding, and in turn it generates a massive melting pot of ideas.
"I couldn't help but feel that India tolerates and has such a broad acceptance of everything. That is what allows not only nuttiness to exist, but also allows that genius to thrive at the other end," she said.
This nuttiness also has major governmental support. In India's 12th Five-Year Plan, a layout for the next five years of the country's economy being developed for 2012-2017, some of the recently announced provisions include the setup of innovation universities and supercomputers. Singh hopes to double India's budget for science and technology from 1% of the GDP to at least 2% to compete with China's 1.4%.
Here are some of the ways that India is forging ahead in science.
Space program
When Saini attended the 97th Indian Science Congress Association session, she said it was clear that the biggest obsession among Indian science authorities is the space program.
Indeed, India's love affair with space really took off (pun intended) in the 1960s when Vikram Sarabhai, a physicist, set about trying to build the country's science program. Eventually, he was able to establish what is known today as the Indian Space Research Organization.
The space agency not only turned 40 this year, but also launched India's first microwave radar imaging satellite, or RISAT – I, in April.
The Indian Space Research Organization is also developing the Geosynchronous Satellite Launch Vehicle Mk III, India's own vehicle that will allow heavy satellites to be launched from India. The first flight test is expected to take place late in 2012. This goes in tandem with plans for India's first manned mission, which the organization has scheduled for 2016.
Saini expresses concern in her book about the ambitious scale of the Indian space program and the technical issues that need to be overcome to independently send an Indian to space.
"The cost is very high," she said. "It's not like sending up a satellite, which is also a technical challenge. But the price of sending an astronaut up and have that fail is immense. Psychologically for a nation, it is immense."
Nuclear power and energy security
In its nuclear energy efforts, India has not been deterred by environmental fears or the disasters at Chernobyl, Three Mile Island or Fukushima Daiichi. The country's energy needs are dire.
According to the World Nuclear Association, India's electricity demand has increased so much that it will require 8,000 terawatt-hours/year by 2050. While coal is one of its sources, the country's coal reserves are limited, unlike in the United States (which consumes around 4,000 terawatt-hours/year).
Geetha Bali, the previous president of the Indian Science Congress Association and the vice chancellor of Karnataka State Women's University, said India has delved into renewable sources like solar energy, but it can only do so much.
"We badly require energy. … We have to have alternate energy resources," she said. "India is investing in those, (but) that alone is not going to be sufficient. With technological developments, there is a need to exploit all renewable resources."
Saini said that while uranium has been the dominant chemical element everywhere else, India has been focusing its research more on thorium, which is considered to be slightly safer and cleaner. While uranium is more expensive and getting more scarce, India has plenty of thorium ore on its monazite-rich beaches. It was announced in May that India would start constructing its first 300 megawatt thorium reactor at the end of the 12th Five-Year Plan period.
Bali said the West should be aware that India's priority of energy security far outweighs other possible intentions, such as weaponization of nuclear fuel.
"Developing technological abilities is a different thing," she said. "Using nuclear power for ensuring energy security is a different thing. I don't think all developments in nuclear research (are) intensely focused on using it for war."
Open Source Drug Discovery
India has enough problems of its own to deal with, so it is not preoccupied with offensives against other countries, Bali said. One of those problems is curbing tuberculosis infections in the country.
A project that Saini profiles that is tackling tuberculosis is the Council of Scientific and Industrial Research's Open Source Drug Discovery. This collaborative research effort aims to bring together all existing and upcoming research on neglected diseases, like tuberculosis, from Indian scientists, students and researchers across the country to come up with new drugs to treat the diseases.
The project has come about because of the major pharmaceutical companies' lack of interest, Saini said. Such diseases don't affect the West nearly as much, and no profit can be made from the people affected the most: the poor.
She also added that since companies make money through patents, a lot of the research takes place behind closed doors, whereas in Open Source Drug Discovery there is no sense of ownership over the data.
"The exciting thing about Open Source Drug Discovery is that it takes advantage of what India has the most of, which is not money but people," Saini said. "It has loads and loads of well-educated, well-trained, willing geeks who want to work on this problem because two Indians die of tuberculosis every three minutes."
While external validation and peer review is important, Saini said that if it works, this could become a new scientific method for approaching problems.
In some ways this was the dream for Jawaharlal Nehru, the first prime minister of a free India in 1947. Nehru, a Cambridge University science graduate, was a big believer in the power of science and its ability to lift up Indian society. Saini said that this sentiment was shared by many of the Indian scientists she met.
"Indian scientists don't work in a vacuum," she said. "And because so many of them have a social commitment to their work and such social aims in their work, it was impossible to divorce everything that is happening in India, the poverty, the religion, the spirituality and politics from science."