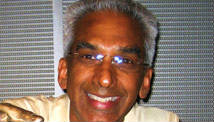 Editor's note: Madhu Thangavelu is space projects director of the Cal-Earth Institute and a fellow at NASA's Institute of Advanced Concepts. He is an advisory board member of the American Institute of Aeronautics and Astronautics with a focus on the design of complex space projects, including space stations and exploratory missions. He also teaches at the University of Southern California.
By MadhuThangavelu, Special to CNN
The vehicle had that new-car smell, but this was no used car lot.
It was space exploration history in the making.
Astronauts said they noticed the familiar scent in May when they opened the hatch of SpaceX's unmanned Dragon crew vehicle and peered inside the first private spacecraft to visit the orbiting international space station.
Watch NASA video of the hatch opening
I had to laugh. I don't recall any such comments in the past, when the ISS hooked up with space vehicles that were built by multinational and defense corporations.
The mission literally opened the door to a new era in space activity, announced NASA chief Charles Bolden.
Can you imagine? A small business run out of an L.A. warehouse is now able to support international space station logistics, which was formerly done only by defense suppliers!
Now that this new door is opening, perhaps it's time to consider a U.S. Department of Space, a department with a Cabinet-level director who can play a vital role in international space exploration.
Why?
It's the right economic climate, merging national pride, prestige and the motives of the profit-minded entrepreneur.
It will prevent logistical headaches by coordinating global space projects and private space companies and helping NASA focus on the agency's core competencies.
It will save money by increasing efficiencies within the private and public space bureaucracies.
It's attractive to the new guard. The new generation will accept this new structure because it's not married to the past.
Government space programs have always been about national pride and international prestige, much like those evolving in China and Russia today, not to mention providing government jobs. It was never an economic matter as much as it was a policy-related one.
Private space activity, on the other hand, is all about the profit-minded entrepreneur. Perhaps we should merge these philosophies and create an agency with oversight of both public and private space activities. This would help NASA remove layers of bureaucratic burden and bring laser focus to NASA's trailblazing projects.
Besides helping build infrastructure of friendly nations, a U.S. Department of Space would:
align projects and goals of various spacefaring nations.
assist in global space projects like planetary defense.
create and run international manned missions.
mitigate orbiting space junk and other debris.
A Department of Space would also help coordinate the activities of fledgling private space companies. These kinds of firms have a history of being squashed by NASA as it tries to protect the agency's own charter and monopoly.
Already, even before the impending advent of routine suborbital space tourism flights by Virgin Galactic, the FAA is involved, studying the potential impact of transatmospheric vehicles on airline traffic.
A new space agency could help companies cut through government bureaucracies such as the Department of Commerce, National Oceanic and Atmospheric Administration and Occupational Safety and Health Administration, all of which will have expanding roles in commercial space.
For example, the satellite industry accuses the State Department of making it harder to compete for customers, because private industry must get the agency's approval when sensitive or restricted technology is used aboard satellites. When satellite companies are denied use of this technology, it makes it harder for them to compete for global customers.
A Department of Space could balance the State Department's national security concerns with private industry's need to compete.
NASA's role
NASA may not be able to handle all these auxiliary functions that will be thrust upon it without radical changes to the agency's charter.
Perhaps it's better for the agency to stay close to its original charter and provide leadership in its area of core competency: space science, high-risk technology development and endurance-class manned missions to deep space.
A Department of Space must not be misconstrued as a threat to NASA. Nor should it be portrayed as a stealthy Pentagon effort to increase its global influence.
But NASA finds itself in a position of being asked to do too much with too little for too long. And in keeping with erratic budget trims and fixes, the agency's vision has been badly warped over time.
The NASA vision of today is nebulous and seems to pay lip service, trying to do all things for all people.
Financial and human support
A University of Southern California team project from last fall presented a case that a Department of Space should operate at a budget level of $60 billion - of which NASA should have $20 billion to build, test and fly daring, leading-edge space science, technology and human missions into deep space. By comparison, NASA's funding outlined in the 2012 federal budget was $18.7 billion (PDF).
It is possible for small companies like Aerovironment or SpaceX to innovate and field systems at a fraction of the cost and overhead of larger corporations.
Some of the astronaut heroes of another generation seem to favor to continue to support a large governmental role for space development, and it appears hard for them to accept the dramatic changes happening today.
Contrast that with the smart, can-do graduate students I work with at USC. They were born into a closely knit world vastly richer in stimuli and experiences. This communications-savvy "texting" generation's view of the globe is smaller and vibrant with possibilities. They have a smoother, firmer handle on complexity. They have an unparalleled ability to process information. And so I tend to sympathize with their fresh, new views.
Human space activity exemplifies cosmopolitanism, the philosophy that all people everywhere share the same values while respecting cultural differences and accepting of plurality.
We might do well to pay attention to the fact that eight minutes into flight, space travel puts people in a global regime that upsets 20th-century political dogma and Machiavellian statecraft and pushes us to think as a truly globally connected species.
A U.S. Department of Space would be a shot heard around the world.
It would signal our allies that civilian space activity has entered mainstream America.
It would show that the administration intends to fully nurture and vigorously support leading edge technology and engineering.
It would summon the crème de la crème among our innovators across the board of disciplines and professions that are the core of human space activity,  and thereby help align the ambitions of other nations too, creating new industry and promising rewarding opportunities for the new generation.
Space technologies and missions are evolving at a rapid pace around the world.
And true space commerce has sprouted in small businesses all over America.
Our window of opportunity to seize the moment may not last long.
We must energize this fully homegrown 21st-century phenomenon with all we got. Carpe diem!
The opinions expressed in this commentary are solely those of Madhu Thangavelu.