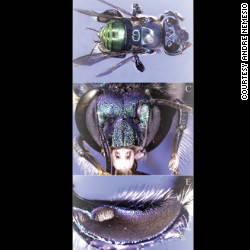 If you watch "The Big Bang Theory," you probably laugh every time Sheldon Cooper says the B-word: "Bazinga!"
Now, in one of those amusing science-imitates-art moments, "bazinga" has been officially dubbed a species of a bee.
The writers of the hit comedy probably never imagined that the persnickety physicist Cooper's favorite word would be immortalized in actual science.
But thanks to a team of Brazilian biologists, a Brazilian orchid bee is now known by the name Euglossa bazinga.
"The idea was to honor actor Jim Parsons and his brilliant interpretation of Sheldon Cooper," Dr. André Nemésio, a biology professor at the Universidade Federal de Uberlândia in Brazil told CNN.
"The show exaggerates a little bit, but in a sarcastic way, it shows how things do happen in the academic world," he added. "It is fantastic!"
Of course, it doesn't hurt that the name draws attention to these creatures.
"Many orchid-bee species inhabit forested areas that may soon vanish and, as a consequence, it is possible that the bees might disappear, too," Nemésio said.
"For many areas and many species, only a strong action from the society can reverse the extinction process. So, I think it is also a valid way to make people know about these wonderful creatures and the situation concerning their conservation status."
For his part, "Big Bang Theory" executive producer Steve Molaro responded in a press release: "We are always extremely flattered when the science community embraces our show. Sheldon would be honored to know that Euglossa bazinga was inspired by him. In fact, after 'Mothra' and griffins, bees are his third-favorite flying creatures."