By Chris Erickson, CNN
I didn't set out to crash three GoPro cameras and another $1,000 worth of electronics from more than 65,000 feet.
I simply wanted to organize a visual story for 12 international journalists who were visiting CNN headquarters in Atlanta in June. Getting video from the "edge of space" seemed like an easy idea that would make for great television and a great story.
In the past few years, low-orbit photography - that is, taking photos and videos from high up in the atmosphere - has been growing as a hobby. As cameras and GPS devices become cheaper and more reliable, just about anyone can do it, not just tech geeks.
More from Light Years: 14-year-old gets photos from space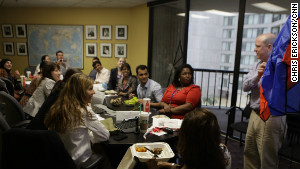 For our purposes, it seemed like a simple idea:
1. Find low-orbit photography enthusiasts. Give them GoPro cameras and have them build a camera delivery vehicle with parachute.
2. Launch cameras with weather balloon.
3. Have cameras come back to earth with video so reporters could do stories for their home countries' television stations.
Also aboard the balloon were an Android phone and an APRS beacon - a system based on amateur radio - for tracking purposes.
The National Weather Service was kind enough to let us launch from its station in Peachtree City, Georgia. Do not launch a weather balloon without permission from the FAA or other appropriate aviation authorities!
We put together our payload, which became known as "Yeager," and headed for an early-morning launch from a small airfield south of Atlanta. It was still very dark and quiet. The serenity jolted me into the reality of the moment. I had spent so much effort in planning and logistics, but I was really nervous. The journalists, though, were in high spirits as we launched the giant weather balloon. With surprising power and quickness, it rapidly ascended up from our cheers and out of sight.
Well, here's where the "crash" part comes in. We suspect our balloon and parachute ran into some strong upper-level winds, and the whole apparatus broke apart. Thousands of dollars worth of equipment and man-hours crashed into central Georgia.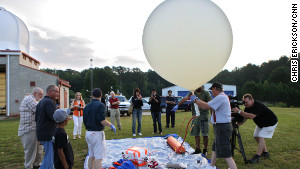 We did find our SPOT GPS unit attached to the parachute that was supposed to deliver our cameras safely. But the cameras had separated from the GPS unit.
After the journalists and I gave up on finding the cameras, team members Mark Sudduth and Kerry Mallory continued the search. They looked in an area using the coordinates of our secondary tracking device, the APRS transmitter, which they were convinced had stayed with the cameras. They kept me updated with teasing phone calls reporting they were within 300 feet. But as the day dragged on, the heat, ticks and snakes, and deeply forested Georgia terrain got the best of them as night began to fall.
At the end of the day: No cameras, no video, no story.
But wait! There's more.
Six months later, miraculously, we did find the cameras - intact, with all video.
Briefly, here's how they got recovered: The Android phone had separated from the space-bound package. But get this: The phone had sent a message to its owner with its whereabouts when the man who found it, Justin Garrett, turned it on. The phone had survived the fall, landing in Garrett's backyard in Brooks, Georgia, a tiny town about 35 miles south of Atlanta.
The Garrett house was the starting point for Mark and Kerry's subsequent search. At first, they didn't find anything else in that area, even after they realized that they had entered the coordinates of the cameras' location, as determined by the APRS transmitter, incorrectly into Google Earth.
But the weekend of December 15, Mark and Kerry went back to try once more. With summer's leafy foliage gone, they returned to the Garrett house and hiked toward the coordinates that the APRS transmitter had delivered before.
"I looked ahead and then it happened," Mark wrote on his website. "As if to almost call out my name, I saw it. Through the woods, probably 200 feet away, I spotted the bright orange against an otherwise dull brown and gray backdrop of dormant trees and thicket."
Here's more on how Mark and Kerry did it.
In the end we recovered all of our expensive equipment - intact and functional! - after its 12-mile free fall, got great video from the edge of space, which we sent to our international reporters, and wound up with even a better story than we anticipated.