By Nana Karikari-apau, CNN
Editor's note: The Science Seat is a feature in which CNN Light Years sits down with movers and shakers from different areas of scientific exploration. This is the fifth installment.
Sarah Dodson-Robinson is an assistant professor in the astronomy department at the University of Texas at Austin. She is a member of the American Astronomical Society and recently won the organization's Annie Jump Cannon Award for her work exploring how planets form.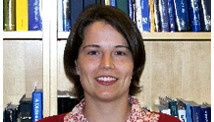 Dodson-Robinson says she enjoys discovering new things and coming up with new pieces of knowledge, no matter how small. She describes it as a "wonderful feeling."
CNN Light Years recently chatted with Dodson-Robinson about her research. Here is an edited transcript: