By Kelly Murray, CNN
Editor's note: The Science Seat is a feature in which CNN Light Years sits down with movers and shakers from many areas of scientific exploration. This is the sixth installment.
As primates, humans were once furry, much like the modern chimpanzee.  But when, and why, did we lose this fur and become "naked"?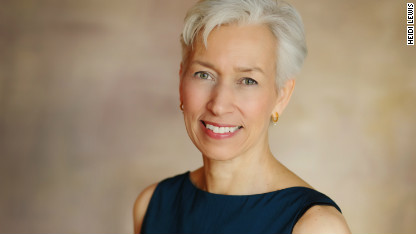 Nina Jablonski, professor of anthropology at Pennsylvania State University, studies primate evolution with an emphasis on human skin. Among numerous academic publications, she also wrote the book, "Skin: A Natural History."
CNN Light Years spoke with Jablonski about the evolution of human skin, from furry to naked.  Here is an edited transcript:
CNN's Kelly Murray: Were humans ever furry like a modern chimpanzee, and how do we know?
Jablonski: Yes.  We, as primates, are furry and because we last shared an ancestor with chimpanzees about 6 to 7 million years ago, and that common ancestor was hairy, or furry.  All of our living relatives are hairy; we are the only naked ones.  It is simply by the principle of parsimony that we can deduce that we were hairy.  Also, we know that we did share a common ancestor with hairy chimpanzees about 6 to 7 million years ago.  So there is every reason to assume that our ancestors were hairy.
CNN: What did our fur look like?
Jablonski: The most likely appearance of the fur is very much like modern chimpanzee fur: Uniformly dark, or black, over the body surface.  There probably wasn't a sort of contrasting front and back as there are in many animals.  And this dark hair would have been covering lightly pigmented skin.  If we look at a chimpanzee today, what we see if we look under their hair is actually very light skin.  So we have actually reasoned by looking at comparative evidence, that the most likely appearance of the skin in our common ancestor was light skin covered by dark hair, much like chimpanzees have today.
CNN: A lot of your research focuses on human skin pigmentation, but you argue that the study of skin pigmentation cannot be addressed until you understand what happened to our fur.  Why is that?
Jablonski: I consider discussion of the loss of fur to be really foundational in any discussion of human skin.  Fur serves many, many functions for animals, but one of the important functions is that it protects the skin from the sun.  The dark pigmentation in skin, and specifically the most important pigment - melanin - is a good substitute for part of the function of fur.  Melanin is such a superb natural sunscreen.  So the story of pigmentation is integrally linked to the story of the loss of hair or fur.
CNN: When did we first lose our fur and gain this pigmentation?
Jablonski: The human lineage evolved in Africa.  If we start at a starting point of 6 to 7 million years ago, when humans first parted ways from the ancestors of chimpanzees, we have a lot of fossils that indicate that humans were walking on two legs, but they were not modern-looking.  They were fairly short, and they still had quite ape-like body proportions: fairly long arms, relatively short legs.  These were Australopithecus species of various kinds.  They were good bipeds, but they were also capable tree-climbers.  But when we look at their skeletons in detail, it's pretty clear that they were not active runners.  They could walk on two legs but they weren't running or striding purposefully across the savanna most of the time, they were sort of living lives that are much like those of chimpanzees: fairly close to the edge of the forest, sometimes going into trees for protection, and then walking for short distances in the open to forage.
We hypothesize that, at that stage in our lineage's evolution, we still would have had quite a bit of body hair, because the reason we started to lose body hair is related to the need for controlling body heat.
It turns out that primates lose most of their heat through radiation from the surface of the body into the environment, and by evaporation of sweat.  The hotter it is outside, the more important sweat becomes, especially if the animal is exercising vigorously and generating a lot of internal body heat.  Internal body heat is good to a point, but you have to be able to liberate excess heat, otherwise your brain, organs and muscles get too hot.
Primates as a lineage almost exclusively use sweating for this purpose (versus other mechanisms such as panting).  There have been a lot of hypotheses made about why we lost most of our body hair.  And I definitely, and many colleagues of mine definitely are of the opinion - based on the environmental, anatomical and genetic evidence at hand - that we lost most of our body hair because of the needs of heat regulation.
CNN: How does sweating cool the body?
Jablonski:  When sweat evaporates from the surface of the skin, the blood in the small veins in the skin becomes cooled slightly. This blood then flows back toward the heart, and that seemingly insignificant amount of cooling of the blood is physiologically very significant, because it brings cooler blood back to the heart, which is then oxygenated by the lungs and pumped back into the circulation, including the brain.  There are quite a few primates that can sweat well, but we are the premier sweaters of the world.
So, we actually have several different lines of evidence to indicate that humans lost most of their body hair when their patterns of activity changed dramatically.  And we see this illustrated beautifully in the fossil record when we look at early members of the genus Homo such as the species Homo ergaster, found in Eastern Africa.
We know from a variety of anatomical studies done by many excellent colleagues that these individuals were long-distance runners and high-speed walkers in open environments.  Studies of the fossils and genetic evidence allow us to deduce that these ancestors would have had excellent sweating abilities.  So by about 1.2 million years ago in the history of our lineage, in the early days of our genus Homo,  we were mostly hairless.  And at the same time, we were darkly pigmented.
The transition from hairlessness to naked skin was accompanied by the acquisition of permanent dark pigmentation. ... You can't have naked skin that is without protection in a really sunny environment, because strong sunshine, including high levels of UV radiation, is so damaging to so many functions of the skin.
CNN: Without UV protection, would those individuals have developed cancer?
 Jablonski: Well, I think cancer probably wasn't the main event, because cancer mostly afflicts people after reproductive age.  It takes some time for skin cancer to develop.  Our hypothesis has been that the most important effect was actually the harmful effects that UV radiation has on the B vitamin, folate, which is necessary for all cell division and cell repair, and is really important in the formation of the human embryo.
CNN: There are other theories that bare skin is beneficial for us to communicate with each other by decorating ourselves.  Does that have anything to do with losing our fur?
Jablonski: Right.  We communicate and we decorate ourselves, but those things happen much later in evolution.  Especially the deliberate body decoration aspects.  That's certainly an added benefit of having naked skin, is that we lavishly decorate it, and we use it as a medium for communication.  But we don't see that as a causal reason for loss of hair in the first place.
CNN: Why do we get chill bumps when we're cold or scared, and does that have to do with humans once having fur?
Jablonski: Yes it does.  Those little chill bumps, or goose bumps, are caused by tiny little pieces of smooth muscle in the skin that cause the hairs on our body to stand up.  When we had fur, this was really helpful because when the hairs stand up, it actually increases the insulating value of the hair.  So if a dog is cold, or a squirrel, or a monkey or a chimpanzee is cold, his or her hair will stand on end and that will increase the outer insulation of the body.
Ours is pitiful.  I mean we can see our hairs standing on end, but mostly we just see the skin getting sort of crinkled because of the contraction of these muscles.  The hairs over most of the human body are so fine that they don't have any effect on insulation whatsoever.  But it turns out that we haven't gotten rid of all of our hair because those little hair follicles turn out to be absolutely critical for healing of wounds.  Every time we get a cut or a burn or anything that causes an abrasion or a change in the surface of the skin - an injury to the skin - the stem cells come from the hair follicles that enter into the repair of the wound.  So those hair follicles turn out to be like little banks of future skin cells that are absolutely essential to the wound repair process.
CNN: Why do we still have armpit hair, pubic hair and hair on our heads?
Jablonski: The hair on the top of our heads is still a great protection from direct UV radiation.  When you're standing at the equator, or near the equator, you're getting the highest levels of sun and UV radiation right on the top of your head.  And so hair absorbs a lot of heat from the sun, and protects the scalp.  Really curly hair is very good at this; really dark hair is good at this.
If you have dark hair yourself, you can verify this by sticking your fingers under your hair when it's sunny outside.  The surface of your hair gets very hot, but the surface of your scalp is actually quite a bit cooler.
As for armpits and pubic hair, those hairs probably were retained for the propagation of pheromones, the scents that are so important in communication, although we do our best to get rid of these scents by showering every day and using all these products to get rid of smell.  But these scents are really important in subconscious communication between humans.  So these small areas of hair have been retained, but most of the body is naked so as to facilitate the loss of body heat through very rapid evaporation.