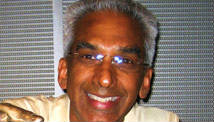 Editor's note: Madhu Thangavelu is space projects director of the Cal-Earth Institute and a fellow at NASA's Institute of Advanced Concepts. He is an advisory board member of the American Institute of Aeronautics and Astronautics with a focus on the design of complex space projects, including space stations and exploratory missions. He also teaches at the University of Southern California.
By Madhu Thangavelu, Special to CNN
Four decades after the first man walked on the moon, we continue to live in a time of great technological and social opportunity. And yet, without vision, lacking direction and in an apparent state of ennui, human space programs are withering around the world.
The new economic powerhouses of China and India show great promise, but I suspect it will take those great nations years of infrastructure building before they can pull off any major feats in this arena, while established rivals-turned-partners like Russia and the U.S. seem to have difficulties envisioning and executing great and exciting new missions.